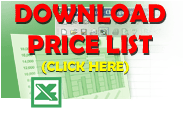 Test Test Welcome to our website.
On the left you will find the categories of parts we stock.
We also have a new online ordering system where you can select items and quantities from the categories and submit them to us here at Wholesales where we will put your order together for delivery or pick up.
You can also use our new system quoter to create a quote for direct presentation to your customer/s.